In a letter sent on behalf of Shamima Begum's family, the Home Office has been asked to show "mercy" by reconsidering its decision to strip the London teen of her UK citizenship.
On Friday 8 March, Ms Begum's three-week old son, Jarrah, died due to breathing difficulties and pneumonia.
A letter which was sent by the family's lawyer to the Home Office yesterday morning says: "We write specifically on behalf of Mrs Begum, Shamima Begum's mother to ask you to reconsider your previous decision dated 19 February 2019 to deprive her daughter Begum of her British citizenship.
"Ms Begum requests this reconsideration, as an act of mercy, on the basis of the following new information, namely the death of her newborn son."
The letter also said that "it is extremely unlikely that Shamima will be in a fit state to make any rational decisions".
The family have been unable to establish contact with Ms Begum directly and mentioned in the letter that a request for assistance from the UK government was "refused in writing".
The letter adds: "As far as we are aware, the British government did not ask for the views of, nor consult with the government of Bangladesh on whether Shamima held dual nationality before the decision depriving citizenship.
"You will appreciate there are immediate fears for Shamima's health and safety, and the matter is urgent."
Here is the letter in full: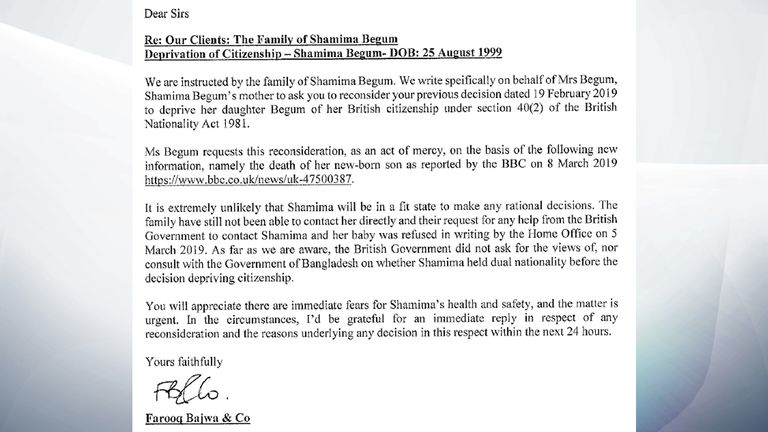 The letter requested a response within 24 hours.
The letters comes after Home Secretary Sajid Javid was widely criticised for not acting to prevent the death of baby Jarrah, who was a UK citizen.
In response to the news of the death of baby Jarrah, a UK government spokesman said: "The death of any child is tragic and deeply distressing for the family.
"The Foreign and Commonwealth Office has consistently advised against travel to Syria since April 2011.
"The government will continue to do whatever we can to prevent people from being drawn into terrorism and travelling to dangerous conflict zones."
5Pillars contacted the Home Office for comment but were told: "We do not comment on individual cases."
As you're here…
5Pillars have one humble request from you…
Thousands of Muslims around the world visit our website for news every day. Due to the unfortunate reality of covering Muslim-related news in a heightened Islamophobic environment, our advertising and fundraising revenues have decreased significantly.
5Pillars is editorially and financially independent, with no sectarian or political allegiance to any particular group or movement. Our journalism has been exclusively grassroots focussed and our sole purpose is to defend Islam and Muslims in the media.
This makes us unique in comparison to other online Muslim media outlets who are neither independently regulated by a reputable body nor are they managed by qualified journalists.
Our journalism takes time, money and effort to deliver. But we do it because we believe we have a duty to Allah (swt).
You may not agree or like everything we publish. However, which other Muslim news site that is run by experienced journalists will take on the responsibility of being a shield for Islam and Muslims in the media?
If you follow 5Pillars, and you understand its importance in today's climate, then please support us for as little as £5 a month, it only takes a minute to make a donation. Jazakallah khayran.
Our beloved Prophet Muhammad (peace be upon him) said:"The best deeds are those done regularly, even if they are small." [Ibn Mājah]
Add your comments below